Popcorn Ceiling Services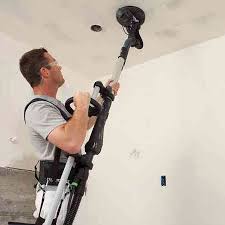 Popcorn ceiling removal can be a very messy job. Leave the work to the professionals at LuxCon Pros. We will make sure the work gets done quickly and with no clean up for you. Also, keep in mind that some popcorn ceilings done before 1978 may have traces of asbestos. LuxCon Pros safely remove popcorn ceiling so that they are not a hazard to you and your family. 
Popcorn ceilings can make a room look outdated. They attract dust and are difficult to repair and clean. Fortunately, you have LuxCon Pros in the Sarasota area to get rid of those unfashionable ceilings and replace them with a new cleaner look.
Textured or Smooth?
Ceilings reflect light and can make a big difference in the way a room feels. Many homeowners choose a textured ceiling to cover bulging or cracks. Texture is a great way to add interest to your ceiling and disguise imperfections, however, if you decide you prefer a smooth ceiling, removing the texture will take longer to do. The trend now is a nice smooth ceiling. LuxCon Pros have been installing smooth seamless ceilings after removing the popcorn ceiling throughout the Sarasota area. Contact us today for a free estimate to remove your popcorn ceiling and install either a texture or smooth ceiling.