Drywall and Texturing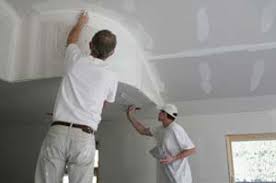 With the many patterns of texture for ceilings and walls, it takes a professional to get the job done right. If you are trying to fix or repair an existing wall or texture, you want it done so that it will be difficult to detect that there was ever any damage. LuxCon professionals are experts in texture matching and drywall repairs. We will complete your drywall repairs in the quickest time possible to minimize any inconvenience.
If you have had drywall repaired in your home or business, you know that it can be a messy, drawn out process.  It can take a day for the taping and the first float to dry, then a day for each skim coat. All of this is before texture, priming, and painting. The entire process can take a week!  In most cases, we are in and done in a couple of days.
LuxCon can assist you in a complete renovation or new construction as well. We take care of all your drywall needs, from small repairs to complete installations. Our expert workmanship with drywall, combined with our ability to match texture, provides a seamless, consistent flow to your walls and ceilings.
From designed textures to texture techniques we can give your walls a custom look.
Our Wall Texture Techniques include:
Glazing

Stipes

Ragging

Leather Looks

Antiquing

Wood Grain

Stippling
We work with drywall, plaster and cement walls. What is the right texture for your wall? How you can choose which one is best suited for you? Textured walls can give a whole new look to your home, so  choosing the right texture for your walls could be a tricky job. There so are many wall texture ideas to select from and wall texture types will vary according to the application technique. So, if you're stuck for ideas on how to texture a wall and want to know more about different types of wall texture & techniques, contact LuxCon.
From planning to installation to finish, getting a drywall is not an easy task. Different rooms need different types of drywall finish depending on its usage and decor. It's important that you contact a professional.